The History of Foreign Dissent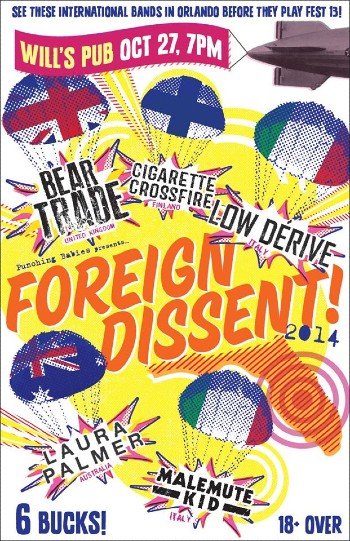 In 2014, I was asked to book a show for Laura Palmer, who was scheduled to play THE FEST in Gainesville, a long-running, multi-day, punk rock festival. Initially assumed to be a solo act, I was surprised to discover Laura Palmer to be a 3-piece punk rock band from Australia whose name was an homage to the cult-classic TV show Twin Peaks. Upon listening, I agreed to book them and decided to see if other non-US bands heading to THE FEST would be interested.
Some thought this was a foolish idea: a lineup of all non-US bands with no local support—you must be out of your mind! But it was too late, the concept was too exciting and unique to not move forward, and Foreign Dissent was born.
Illustrious graphic artist Joe Williams was tapped to handle the art and design strategy; Orlando's best local music venue, Will's Pub, was tapped to host the event; and I got to work finding other non-US, FEST-bound bands who wanted to play.
But something I hadn't considered when planning Foreign Dissent was the need for a full backline. A backline is all the gear a band needs to perform live, minus their actual instruments. Traveling with all that bulky, heavy gear just isn't optimal or feasible for the bands. Fortunately, amazing local Orlando musicians came to the rescue, volunteering their amps and drum kit for the bands to all share on this epic night.
The initial lineup of six bands from four different countries shrunk to five when Ducking Punches (England) had an emergency situation and had to cancel their trip across the pond. The final lineup featured the aforementioned Laura Palmer (Australia), Bear Trade (England), Low Derive (Italy), Cigarette Crossfire (Finland), and Malemute Kid (Italy). In addition to the bands, Orlando's Vegan Hot Dog Cart was on hand to satisfy even the hungriest music fans.
Foreign Dissent 2 (2015)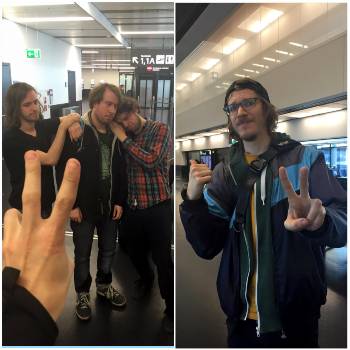 After the success of year one and the fun I had in pulling off such a unique concept, I decided it had to continue. Fortunately, FEST organizer Tony Weinbender backed the idea and started to let all the international bands know about my event when they were invited to play THE FEST. This helped take some of the work off of me to find the bands, because now bands were hitting me up.
But not everything goes as planned. Austrian band ASTPAI was flying over to play Foreign Dissent 2, but when they got to the airport in Austria, they learned the plane was broken and they wouldn't be able to fly out that day. Because of the distance they were traveling, and the limited travel options, there was no way for the entire band to make it over in time to play Foreign Dissent. But, lead singer/guitarist Zock was able to find a single seat that got him to Orlando in time to arrive at the show by 11pm to perform a solo set. It was magical.
For food at FD2, we were fortunate to have Leguminati on hand for what was one of their very first events. Now a brick and mortar vegan restaurant in Orlando, they rolled up with their food cart and their now-famous crunchwraps left many band members and attendees stuffed.
Foreign Dissent 3 (2016)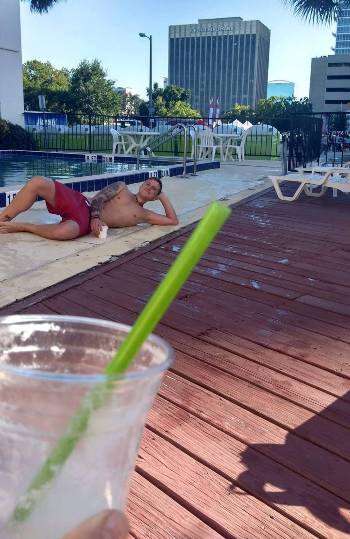 FD3 featured the very first Asian band, The Caulfield Cult from Singapore. It also featured the triumphant return of Ducking Punches from England, who had to cancel their appearance at FD1 due to unforeseen circumstances.
And what's more fun than visiting Orlando from another country and spending the day at a pool in downtown Orlando? NO FUN from Germany did just that, spending a lazy Monday poolside at the downtown Travelodge enjoying a sunny day before killing it on stage. I was pretty stoked to get to join them, get to know them, talk about German punk rock, and settle my nerves ahead of the show that night.
And then there was the first band from Central America, Lemmiwinks from Panama. When they arrived at Will's Pub, I was shocked to see how young their bass player was. It turns out that the band's original bass player was, allegedly, having an affair with their drummer's wife and was kicked out of the band just prior to their trip to the United States. They knew this 16-year-old who was just learning to play and they got him up to speed fast enough to head out on their first US tour. It was quite the story and, for such a fast turnaround, the kid absolutely rocked it on stage.
Foreign Dissent 4 (2017)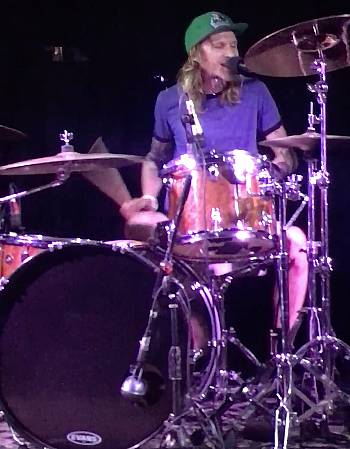 You may recall the bad luck ASTPAI experienced during FD2, when their plane was broken and only their lead singer/guitarist could make it over in time to do a solo set. Well, the Foreign Dissent jinx was on for ASTPAI, because when they returned to FD4 in 2017, they were thrown another curveball.
It is worth noting that Foreign Dissent does not do repeat bands—at least that has been the approach thus far—but an exception was made for ASTPAI since the full band couldn't make it the first time. Maybe you could say they found a loophole!
Back to the story. Zock (lead singer/guitarist) and I were hanging out the day before FD4. Zock said, "Craig, I didn't want to tell you this ahead of time to freak you out, but our drummer has two ear infections and he was told he can't fly." Obviously, I was shocked and had many questions. "So, I'm going to play drums," he said.
For most, a lead singer/guitarist taking on drumming duties would be hard to fathom, but Zock is a talented drummer and felt he could manage it. The band practiced in a hotel room the day of FD4 with Zock using drum sticks on the hotel bed. Then, that night, for the only time in the history of ASTPAI, the band was a 3-piece with Zock on drums and vocals. And they were incredible (and another video here and here).
Foreign Dissent 5 (2018)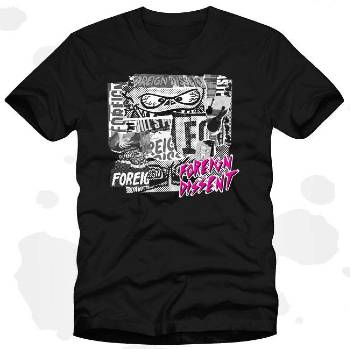 It was a pretty awesome milestone to get to the fifth installment of Foreign Dissent and the 5-year anniversary called for something special.
For the first time, there were Foreign Dissent shirts. (By the way, if you'd like to get your hands on one, there are still some available. Just contact us through Facebook.) And the Orlando Weekly did a really cool feature about the event, discussing some of the challenges and unique aspects about it.
It was also the first year that several bands were in Orlando early enough to all hang out together. Lone Wolf, Happy Accidents, and Hora Douse all met up for some veggie eats, nourishing ourselves several hours before the party kicked off (see photo proof).
It was quite the party, too. For the first time, there were eight bands on the bill, Will's Pub chipped in free PBRs for the first 24 people through the door, we had Altar Offerings and CayCakes Bakeshop slinging savory and sweet eats, and my good friend Blaine Helmick had two cameras recording every bit of the show, including sound directly from the board (watch every set from FD5). You can read the Orlando Weekly's recap of the event that also has some amazing photos from Jen Cray.
Foreign Dissent 6 (2019)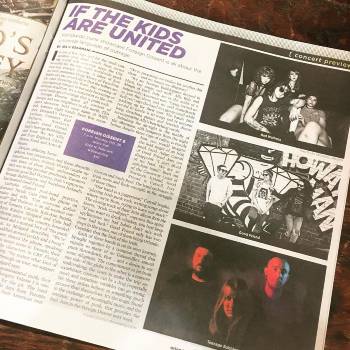 Year 6 brought another big lineup, eight bands for the second year in a row. It also marked the first time a band from Denmark or Ireland had played FD.
Coverage ahead of the event was unreal. Ida Eskamani wrote an awesome preview of the event for the Orlando Weekly, Orlando music legend Michael Donaldson did an interview with me, and I went on Orlando-based podcast Scotch & Good Conversation. Needless to say, I was flattered by how much others wanted to help spread the word.
I was also thrilled to have new startup and good friend V's Diner out with their food trailer to fill everyone's belly with amazing vegan diner food. And, once again, Blaine was back to video the entire event, this time with three cameras and once again getting sound directly from the board.
Foreign Dissent 7 (2022)
You may have noticed that three year gap between shows. Covid changed everything. Besides the obvious health concerns, there were also international travel restrictions that lasted until November of 2021, preventing foreigners from entering the United States. But, finally, in 2022, Foreign Dissent 7 had its moment.
Like previous years, there was great coverage given to the event, including podcast appearances on Mass Chatter, Scotch and "Slightly Better" Conversation, and Tom & Dan Live, a feature article in The Community Paper, and a feature article in the Orlando Weekly (once again written by Ida Eskamani). Oh, did I mention the event fell on October 24, United Nations Day?! 
While originally a lineup of eight bands, Catholic Guilt had issues last minute and were unable to travel for the event. Needless to say, they were gutted. But the show must go on, and it did, with seven bands from six countries rocking the stage at Will's Pub once again. And, now for the third time, Blaine was back to video the entire event, this time with four cameras (including one mounted to a bike helmet).
Foreign Dissent 8 (2023)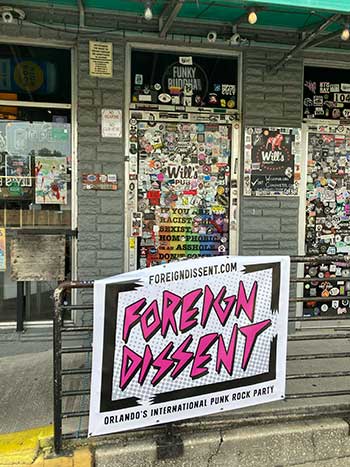 Foreign Dissent 8's lineup might have faced the most change over time of any other lineup. Before all was said and done, three bands dropped from the lineup (The Traders, Quitters, and Excuses Excuses), and two were added (Amends and Eat Defeat).
Coverage of Foreign Dissent 8 was awesome and I'm super appreciative of all of these folks. I did another appearance on the Tom & Dan LIVE! Podcast. The Community Paper wrote a preview of the event. And, once again, Ida Eskamani wrote a feature on it for The Orlando Weekly.
Five of the seven bands were visiting the United States for their very first time, something not that uncommon for FD bands but super exciting for everyone. This was also the first year of Foreign Dissent having banners (see photo); we feel so grown up!
And Blaine was back again at the helm of four different cameras to capture every second of every set from every band. You'll be able to find them on our YouTube channel whenever they are done being edited.
After the success of the first year of Foreign Dissent, the event has gained more attention and attendees with each year. Recapping the event in 2019, Orlando Weekly writer Bao Lee-Hu wrote:
There are many reasons to love this compact event with worldwide span, but I like it most because it's pure music discovery in concert form. Since most go into the show with little to no deep knowledge of these faraway underground bands, the audience has less built-in favoritism for any particular one and more openness to all, just a common devotion to the punk ideal. And that makes a profound difference in the show experience.
That's a perfect way to describe what makes Foreign Dissent special; it truly is an experience of "pure music discovery." On top of that, for many of the bands it's their first time in Orlando and for some it's their first show ever in the United States. That energy is palpable and creates a unique experience, one where the bands share in the excitement as much as the audience, and that's infectious.
Experience The International Punk Rock Party
As long as THE FEST is happening, so too will Foreign Dissent. Held on the Monday before FEST each year, it's an epic night of far-traveling punk rock bands with an intentional focus on diversity. Usually featuring six of more bands, a vegan food vendor, and plenty of drink options at the bar, it's easy to make a night of it.
Foreign Dissent 8 is October 23, 2023 at Will's Pub in Orlando. Learn more, buy tickets and get ready to have the best time!